Game description
The evil Pigsaw is back and will force Lisa to play his twisted game.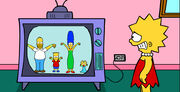 Characters
Hero: Lisa
Villians: Kang, bullies(Jimbo, Kearney, Dolph, Francine), mutant pumpkin, Joker, Burns' dog , Chucky, Itchy and Scratchy, Krusty doll.
Others: Professor Frink, Milhouse, Mr. Bumbelbee (a ballon seller), Principal Skinner, Willie, Ralph, Lady Gaga, Apu, Sherry and Terry, a guard, Leopold (pig), mr. Murphy, Major Quimby, comic seller guy.
Trivia
The original title should have been Lisa Simpson and the mystery of Springfield, but was changed as a Saw Game.
Even though the last game with Pigsaw in was Pigsaw Final Game, he comes back in this game.
This is the first Simpsons game since Bart Island Escape, though Bart and Homer had a picture cameo in Pigsaw Final Game.
Lisa mentions seeing Pigsaw in Homer Simpson Saw.
Lady Gaga appears differently to how she appeared in Lady Gaga Saw Game.

This is because this game is based off the Simpsons, thus naturally designing her in the style of the show.

In the game, there are mostly the people from the Simpson's series.
In the end of the game Lisa had to solve a math problem and type the correct code into a keylock.
Link of the gamer: Inkagamer
Community content is available under
CC-BY-SA
unless otherwise noted.