Game description
The evil Pigsaw is back and will force Marge Simpson to play his twisted game.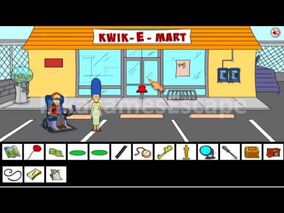 Characters
Hero: Marge
Villains: Pigsaw, aliens (Kang, Kodos), Snake, crazy texan shooter, count Burns, spider Willy, Devil Fanders
Others: Moe, Barney, comic salesman, Tom Hanks, Professor Frink, Milhouse, Tommy Lee Jones, the cat lady, kid (Manu Gomez), Mr. Smithers, Stephen Hawking, Apu, bumblebee man, God
Trivia
 Marge, in Inkagames, had to transform into Lisa with Professor Frink's machine.
In this game, she met Stephen Haukings, all the Simpson's friends, aliens, a cowboy, spider Willy, God and Devil.
In the first minutes of the game, Marge could go in the kitchen, up to Lisa's and Bart's room, (as Lisa could do) but in: Homer saw game, he couldn't go up to their rooms, while Lisa couldn't go to the kitchen.
As in the three Simpson's saw games (Bart, Homer, Lisa), their families were kidnapped by the same person: Pigsaw.
When Marge saw the kid, that could help her he said, he was a winer from Inkagames clay contest - Manu Gomez. 
This is the first Simpson saw game not to include Santa's Little Helper.
Link of the gamer: Escape Gameplays
Community content is available under
CC-BY-SA
unless otherwise noted.