Game description
The evil Dracula is trying to pull together an army of vampires, help Obama stop him.
Characters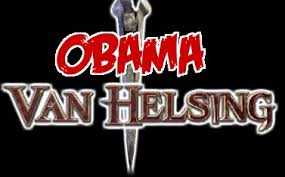 Hero: Barack Obama
Villains: Hyde, Grave keeper, Crocodile, Dracula's helper, Werewolf(Abdiel Oliveira), Mummy,  Igor, Mike Myers, Witch, Dracula.
Others: A villager, Frankenstein, Pope Francis, Abdiel Oliveira (Werewolf), Van Helsing.
Trivia
In the trailer, the priests and the pope, were talking about the evil Dracula and that he captured Frankenstein in his castle (Transylvania), while Van Helsing is on a vacation, they decided to call Obama and that he will stop Dracula.
The Inka Winner for this game is Abdiel Oliveira who was turned into a Werewolf and later helps Obama to stop dracula.
At the begining Obama had to mix two potions in a bottle (2 drops of Bocid acid and one drop of Hydrofluoric acid) and pour it in a syringe. When he came to Paris and unlock the door, he had to give in Hyde' s arm, that he became normal and weak.
After that, he had to go to town, where he had to operate the water suply, from the fountain.
As he came inside the castle of Transylvania, he had to break through the Mummy, trap the Werewolf (and break the course on him, when he decided to go with Obama), Mike Myers, witch and finally beat Dracula with a silver stoke and with the Werewolf.
In the end, it shows, that Van Helsing came back from the vacation and was disapointed, when they said to him the news.
Escape Gameplays