Game description
The evil puppet Pigsaw is kidnapped by all his previous victims and is forced to play one of his wicked games. Will you help the puppet escape?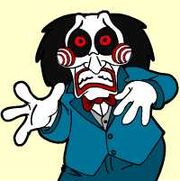 Characters
Hero: Pigsaw
Villains: Ronald McDonald, Sideshow Bob, Chucky, Plankton, Snake, Gene Simmons, Hulk.
Pigsaw's victims: Barack Obama, Lady Gaga, Criss Angel, Bart Simpson, Justin Bieber, Selena Gomez, Homer Simpson, Spark, Tony Toon, Lucas, Flash.
Others: Bender, an Indian dancer, big bunny, Sandy, SpongeBob, Scratch, T-rex and T-rex's baby, Squidward (as SpongeBob), Mr. Krabs (as SpongeBob).
Trivia
Escape Gameplays
Community content is available under
CC-BY-SA
unless otherwise noted.