Game description
Slenderman saw game is a game where Pigsaw kidnap Slenderman and force him to play his game, where he has to find 8 of his pages and his powers in order to escape from a maze that has his dangerous creepypasta characters.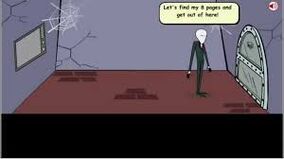 Character
Hero: Slenderman
Villains: Pigsaw , Mad pikachu, evil Mickey Mouse, Laughing Jack, Herobrine, Sonic.EXE (named Evil Sonic in the game), Eyeless Jack, The Rake, Evil Tinky Winky, Nunu, Lavender, Smile dog, evil skull kid, Ben Drowned, Zalgo and Jeff the Killer.
Other: Ash Ketchum, crazy Scientist, crazy Scientist's mouse, Sally, a Business Man, Adrian Timoteo Beltran, Amy Winehouse.
Trivia
In this game all of the Creepy pasta characters are Slenderman's villains.
This is the first game made by Inkagames to have a different art style.
Slenderman is the leader of all Creepy pasta people.
In the game a crazy Scientist 'confesed' that he made Slenderman, by giving him life.
The smiling dog is a computer virus and can hypnotize Slenderman to be crazy.
Slenderman had to face the devil named Zalgo and free Amy (Surname).
His 8 pages are in the order: Follows; Can't run; (Slenderman and a girl); Help me; Don't look or it takes you; Always watches no eyes; Leave me alone; No no no no no no.
In the end Slenderman had to fight Jeff the Killer to have his transportation powers back.
This game called the attention of the famous Spanish Youtuber iTownGamePlay who made two videos playing it. This was noticed by Inkagames who were inspired to develop the Youtubers Saw Game series series starting with Town Saw Game
Jeff the Killer's sprite is different from the one he uses in the Youtubers Saw Game series.
BestOnlineEscapeGames